Heather Osborne
"We hope that our story opens to door to conversations on addiction and struggle, and to hope and healing."
We have raised
$6,019.11
of our
$20,000.00
goal.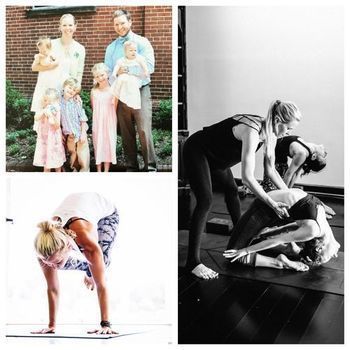 "Yoga teaches us that struggle is inevitable and that being alive equals struggle and learning how to navigate our struggles. Yoga also teaches us that we have the knowledge, ability, and opportunity to approach and embrace our struggles peacefully without resorting to using substances that temporarily numb us and make us feel better.

Our story seemed picture perfect…. Matt and I had a beautiful life: fun, laughter, love, five beautiful children, and what seemed like a bright future ahead. He finished law school in two and a half years. He was so smart and gifted, a Renaissance kind of guy, he could do anything, and he seemed to know everything. He was confident, athletic, loved theater, had an uncanny ability to memorize lines and music. He had a thousand friends…I could go on an on. More than anything, he was driven to help people,  and he always rooted for the underdog.

I am no stranger to addiction, my parents are/were addicts, sober now, but I learned all the signs and what to look for. I started to see it all in Matt as his addiction started consuming him. We had five small kids, babies really, I was in survival mode, he was using, and I was terrified. I was silent for years until the silence became unbearable. Matt tried hard to get sober, went to rehab many times, relapsed every time (one month in rehab is not usually enough to sober up from any addiction, especially opiates). After his last stay in rehab, I was hopeful, and then the pandemic hit. There is nothing worse for an addict than isolation. May of 2020 is when Matt overdosed and we lost him.

Since Matt passed, I have struggled in my own way with anxiety and depression. I have painted a pretty picture of having my shit together as I'm raising these five littles who are beautiful, successful, and thriving, but these past two years have been especially challenging. I let my Ashtanga practice go in an effort to 'be there for my kids'. I "didn't have time" to consistently show up for practice and, just having moved to Florida, I also felt lost without the guidance of consistent teacher. I stopped the hard practice to deal with my hard life only to realize that I am not really there for my kids unless I do 'the hard practice, the Ashtanga practice'.

We miss Matt everyday; he was a beautiful person, my best friend, a joyful and loving dad, funny and playful and full of love. I hate that he struggled and that life became so dark for him. Addiction can dim even the brightest people, the brightest lights. We hope that our story opens the door to conversations on addiction and struggle, and to hope and healing.

With the Trini Foundation, we are raising money in an effort to provide yoga scholarships to those in recovery. Yoga helps! It is an honor to work with the Trini Foundation which is a program that was created to bring awareness to addiction and remove the stigma of the affliction. Our goal is to begin a conversation so that we can pay it forward in hopes that other people don't experience what we went through."